Sapphire AR Coated One Side, with a thickness of 3mm, is a premium optical material renowned for its exceptional hardness, durability, and optical properties.
This variant of sapphire is coated on one side with a specialized anti-reflective (AR) coating, meticulously designed to minimize unwanted reflections and improve light transmission efficiency. Its robust and thick profile makes it suitable for applications that require sturdier optical components. The AR coating ensures minimal light loss due to reflections, resulting in clearer and more precise optical performance within a wide spectral range. Sapphire's outstanding scratch resistance and resistance to harsh environmental conditions make it suitable for use in demanding industries, such as aerospace, military, scientific, and high-end optical systems. Its superior thermal conductivity and electrical insulation properties further enhance its versatility in various optical and electronic applications. Sapphire AR Coated One Side, 3mm thick, offers exceptional optical performance, reliability, and durability for a wide range of cutting-edge applications.
View all of our Sapphire AR Coated Windows optical products.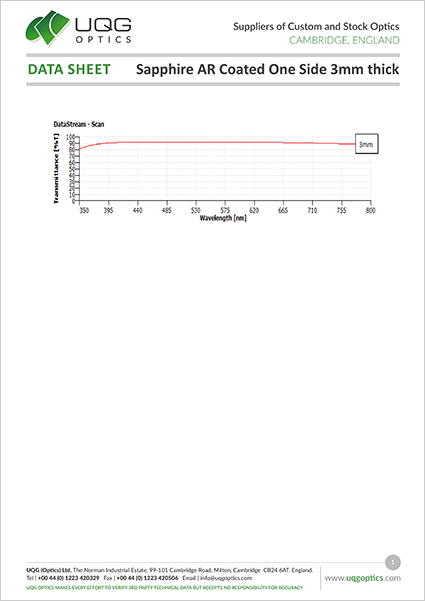 UQG OPTICS MAKES EVERY EFFORT TO VERIFY 3RD PARTY TECHNICAL DATA BUT ACCEPTS NO RESPONSIBILITY FOR ACCURACY.
PDF Download