Sapphire AR Coated Both Sides, with a thickness of 3mm, is a premium optical material renowned for its exceptional hardness, durability, and optical properties.
The sapphire substrate is carefully coated on both sides with a specialized anti-reflective (AR) coating, meticulously designed to minimize unwanted reflections and enhance light transmission efficiency. This makes it an ideal choice for applications requiring precision optics and excellent optical performance across a wide spectral range. The AR coating ensures that minimal light is lost due to reflections, resulting in clearer, sharper images and improved signal detection. Additionally, the robustness of sapphire offers excellent resistance to scratching, abrasion, and harsh environmental conditions, making it suitable for use in demanding industrial, military, aerospace, and scientific applications. Its superior thermal conductivity and electrical insulation properties further expand its range of possibilities in various optical systems and electronic devices. Sapphire AR Coated Both Sides is a prime selection for those seeking unparalleled optical clarity, longevity, and versatility in their optical components.
View all of our Sapphire AR Coated Windows optical products.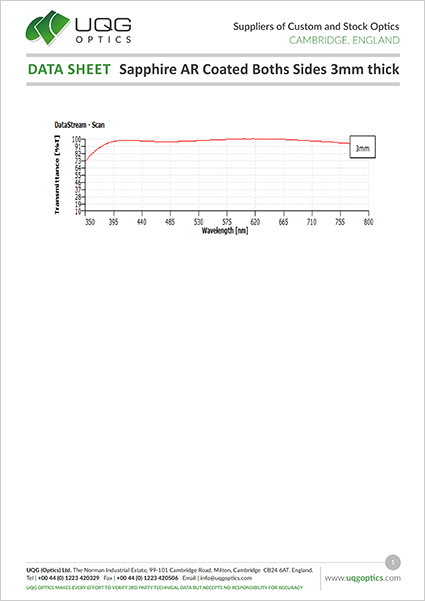 UQG OPTICS MAKES EVERY EFFORT TO VERIFY 3RD PARTY TECHNICAL DATA BUT ACCEPTS NO RESPONSIBILITY FOR ACCURACY.
PDF Download