IR Cut Off Filters are optical materials designed to selectively block or attenuate infrared (IR) light while allowing visible light to pass through.
They are made from specialized glass or coatings that possess unique spectral properties. The primary function of IR Cut Off Filters is to prevent unwanted IR radiation from reaching the image sensor or film in optical systems, particularly in digital cameras and photography equipment. By blocking IR light, these filters help eliminate issues such as color shifts, unwanted haze, and reduced contrast caused by IR contamination. IR Cut Off Filters typically have a sharp transition point where they start blocking IR light while maintaining high transmission in the visible spectrum. This ensures accurate color reproduction and enhanced image quality in various applications, including photography, videography, surveillance, and scientific imaging. With their effective IR blocking capabilities and reliable performance, IR Cut Off Filters are essential components in optical systems where precise control over the spectral range is crucial.
View all our IR Cut Off Filters products.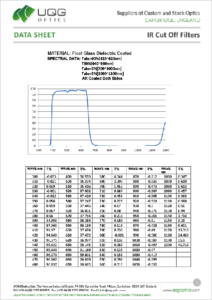 UQG OPTICS MAKES EVERY EFFORT TO VERIFY 3RD PARTY TECHNICAL DATA BUT ACCEPTS NO RESPONSIBILITY FOR ACCURACY.
PDF Download