Schott KG5 Heat Absorbing Filters are optical filters specifically designed to absorb and dissipate heat while allowing visible light transmission.
These filters are made from Schott KG5 glass, which offers excellent thermal absorption properties. KG5 Heat Absorbing Filters are commonly used in applications where effective heat control is crucial, such as in lighting fixtures, projectors, and optical systems. By selectively absorbing and dissipating infrared radiation, these filters help to prevent excessive heat build-up and protect sensitive components, ensuring optimal performance and longevity. The KG5 Heat Absorbing Filters provide a balance between efficient heat control and transmission of visible light, making them an ideal solution for various heat-sensitive applications.
View all our Heat Absorbing Filters products.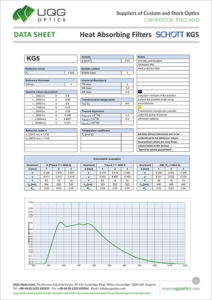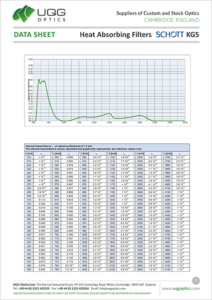 UQG OPTICS MAKES EVERY EFFORT TO VERIFY 3RD PARTY TECHNICAL DATA BUT ACCEPTS NO RESPONSIBILITY FOR ACCURACY.
PDF Download