Plate beamsplitters 0°AOI are a type of optical mirror that split an incoming beam of light into two separate beams, with one beam transmitted and the other reflected at a specific ratio.
The plate beamsplitter 0°AOI configuration means that the beamsplitter is designed to operate at a zero degree angle of incidence.
These optical components are made from materials such as glass or plastic, and the splitting ratio can vary depending on the specific design and manufacturing process. Plate beamsplitters 0°AOI can be used in a variety of applications, including microscopy, laser optics, and spectrophotometry.
View all our Plate Beamsplitters products.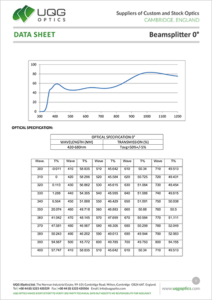 UQG OPTICS MAKES EVERY EFFORT TO VERIFY 3RD PARTY TECHNICAL DATA BUT ACCEPTS NO RESPONSIBILITY FOR ACCURACY.
PDF Download