Borosilicate Windows & Plates - Optical
Borosilicate glass sheets are optically polished to provide outstanding visual quality and optical clarity, then cut to size for our windows and plates. Optically polishing the surface to a precise surface finish and flatness can guarantee the quality of the optical surface unlike general float grade sheet glass borosilicate materials. The glass has a very low CTE (Coefficient of Thermal Expansion) so can maintain high flatness to produce optical flats, laser windows or mirrors. The mechanical strength makes it a good choice for special camera windows with high transparency in visible and near IR & UV range of wavelengths widely used in the fields of optics, photonics and opto-electronics.
Our Borosilicate windows and plates are made as diameters and squares to a standard stock range, or custom made to your design and cut to size.
Please contact our sales team.

View RoHS Statement
| | |
| --- | --- |
| Dimensions: | Diameters 5mm to 400mm |
| | Squares/Rectangles 1mm x 1mm to 300mm x 300mm |
| Thickness Range: | 0.10mm to 20mm thick (subject to dimension) |
| Dimension/Thickness: | Tol up to 0.02mm |
| Surface Quality: | 80/50 to 20/10 scratch/Dig |
| Surface Flatness: | Up to lambda 10 (@633nm) |
| Parallelism: | Up to 10 seconds |
| Options: | Toughened, edges polished, drilled, bevelled angles, wedges, optical coatings & shapes |
Purchase OEM production quantities?
Ask UQG for a quote we are a major single source supply chain global supplier.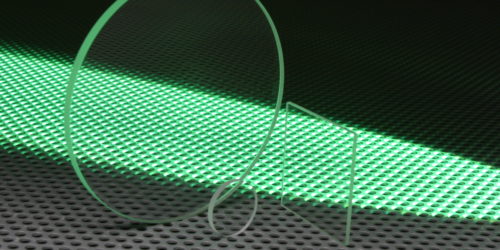 Material:
Borosilicate Optically Polished Borofloat®
Dimension Tolerance:
+0.00/ -0.20mm
Thickness Tolerance:
± 0.10mm
Surface Quality:
60/40 Scratch/Dig
Surface Flatness:
≤ 5 Fringes (@633nm)
Parallelism:
≤ 3 Arc mins
Please contact us for discount pricing for stock parts over 10+ and volume/OEM quantities