UV Fused Silica Windows - Precision
UQG Optics supply precision UV Fused Silica windows and flats. Fused Silica is ideal for precision optical flat windows due to its low co-efficient thermal expansion, low refractive index of refraction and high transmission. Used for laser and precision instrumentation they are custom AR coated for the UV ultraviolet to infrared regions. Custom optical coatings are provided and AR coatings for laser windows, for the power density of your beam to a precise laser damage threshold specification. The windows can be supplied with interferometer graphs from our metrology department using the latest tri-optics software.
UQG optics stock two flatness specifications and offers a range of custom options.
Please contact our sales team.

View RoHS Statement
| | |
| --- | --- |
| Dimensions: | Diameters 5mm to 150mm |
| Thickness Range: | Subject to dimension & flatness |
| Coating Options: | AR coatings 193nm to 2000nm |
| Options: | Wedges, shapes & bevels |
Purchase OEM production quantities?
Ask UQG for a quote we are a major single source supply chain global supplier.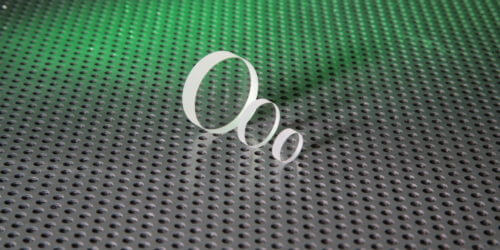 Material:
UV Fused Silica Spectrosil 2000 ®
Diameter Tolerance:
+0.00/-0.10mm
Thickness Tolerance:
+0.50/-0.00mm
Surface Quality:
≤ 40/20 Scratch/Dig
Surface Flatness:
Lambda 4 both sides (@633nm)
Parallelism:
≤ 30 arc sec
Material:
UV Fused Silica Spectrosil 2000 ®
Diameter Tolerance:
+0.00/-0.10mm
Thickness Tolerance:
+0.50/-0.00mm
Surface Quality:
≤ 40/20 Scratch/Dig
Surface Flatness:
Lambda 10 both sides (633nm)
Parallelism:
≤ 30 arc sec
Please contact us for discount pricing for stock parts over 10+ and volume/OEM quantities