IR Fused Quartz Windows & Plates
Infrared grade Quartz windows are made from high purity natural fused Quartz electrically fused. This results in a useful transmission in the infrared from 260nm to 3500nm. The (OH) water content is as low as 5ppm or less. It has a low bubble content with extremely low co-efficient of thermal expansion, outstanding chemical resistance and chemical purity. Widely used in laser applications, low cost infrared windows and useful as a base substrate for IR optical filter coatings.
UQG Optics stock a wide range of sizes and a many options to custom make including surface flatness, coatings, shapes, material and dimensions.
Please contact our sales team or view all our IR Windows.

View RoHS Statement
| | |
| --- | --- |
| Dimensions: | Diameters 5mm to 150mm |
| | Squares/Rectangles 1mm x 1mm to 100mm x 100mm |
| Thickness Range: | 0.1mm to 50mm (subject to dimension) |
| Dimension/Thickness: | Tol to 0.02mm |
| Edge Finish: | Ground or polished |
| Surface Quality: | 80/50 Scratch/Dig |
| Surface Flatness: | Up to lambda 10 (@633nm) |
| Parallelism: | Up to 10 seconds |
| Material Options: | HOQ310, Infrasil & Commercial Grade IR Quartz |
| Coating Options: | AR Coatings from 400nm to 3 microns |
| Options: | Wedges, shapes, drilled holes & bevelled angles |
Purchase OEM production quantities?
Ask UQG for a quote we are a major single source supply chain global supplier.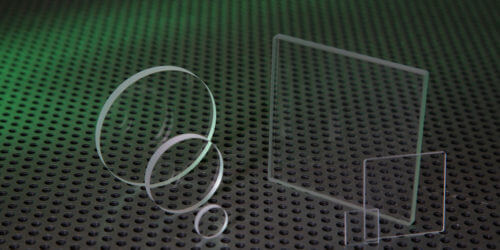 Material:
IR Fused Quartz
Dimension Tolerance:
+.00/ -0.10mm
Thickness Tolerance:
±0.10mm
Surface Quality:
60/40 Scratch/Dig
Surface Flatness:
1-3 Fringes (@633nm) per 25mm
Parallelism:
≤ 5 Arc mins
Transmission Range:
300nm to 3 microns
Please contact us for discount pricing for stock parts over 10+ and volume/OEM quantities