Barium Fluoride (BaF2) is a transparent crystalline material that is commonly used in optical applications due to its excellent transmission characteristics.
BaF2's transmission ranges from the ultraviolet to the infrared region of the electromagnetic spectrum. Its high optical quality and low refractive index make it an ideal material for use in high-precision optical components such as lenses, prisms, and windows. Barium Fluoride is also used in scintillation detectors, where its high density and radiation hardness make it suitable for detecting high-energy photons and particles. Barium Fluoride is a stable and durable material that is resistant to thermal shock, making it an excellent choice for harsh environments.
View all our Barium Fluoride BaF2 Windows.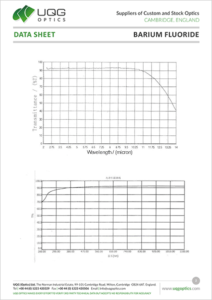 UQG OPTICS MAKES EVERY EFFORT TO VERIFY 3RD PARTY TECHNICAL DATA BUT ACCEPTS NO RESPONSIBILITY FOR ACCURACY.
PDF Download