UV Blocking Filters
UQG UV Blocking filters block harmful UV radiation and with the dielectric oxide coating this allows excellent transmission of the visible wavelength. It protects UV sensitive materials, products and components. The filters will reduce photochemical degradation without damage to the components when the light source is intensified. In addition to coated UV blocking filters there is a range of UV blocking glasses available in sheet glasses for science and industrial applications.
UQG optics stock windows and plates with the option to custom coat different materials.
Please contact our sales team.

View RoHS Statement
| | |
| --- | --- |
| Dimensions: | Diameters 5mm to 400mm |
| | Squares/Rectangles 1mm x 1mm to 300mm x 300mm |
| Thickness Range: | 1.10mm to 3.00mm |
| Material Options: | UV blocking filter sheet & Optivex UV blocking glass 3mm thick |
| Coating Options: | UV blocking optical coatings |
Purchase OEM production quantities?
Ask UQG for a quote we are a major single source supply chain global supplier.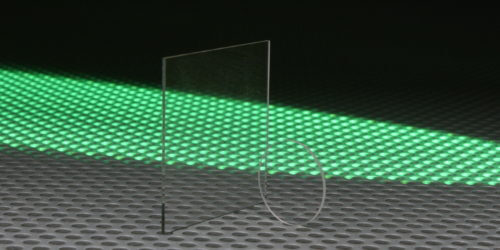 Material:
Borosilicate® Coated Glass UVK-02
Dimension Tolerance:
Diameters +0.00/-0.20mm
Thickness Tolerance:
± 0.10mm
Edge Thickness:
Diameters ground
Squares as cut & chamfered
Spectral Data:
UV Transmission 300-400nm max<3% avg<1%
VIS Transmission 440-690nm avg > 96% min >94%
Transmission 50% @ 410nm(±5nm)
Broadband AR coated one side
Please contact us for discount pricing for stock parts over 10+ and volume/OEM quantities
Part No
Data
sheet
Description
Dimensions (mm)
Thickness (mm)
Unit price
(1-10)


Qty


Qty
(10+)

Volume pricing available for 10+, please add to quote.

UVK-2510
PDF
UV Blocking Filter
Ø 25
1.10
$22.50
UVK-5051
PDF
UV Blocking Filter
50 x 50
1.10
$37.50
Part Number
UVK-5051
PDF Data sheet
Dimensions (mm) 50 x 50
Thickness (mm) 1.10
Focal Length (mm) 0
UNIT PRICE (1-10)
$37.50 Inc. VAT
Part Number
UVK-2510
PDF Data sheet
Thickness (mm) 1.10
Dimensions (mm) Ø 25
Focal Length (mm) 0
UNIT PRICE (1-10)
$22.50 Inc. VAT