BS EN ISO 9001:2015
UQG is ISO 9001:2015 certified.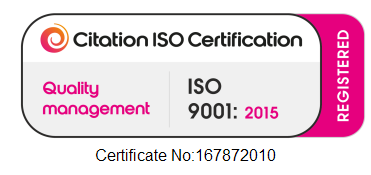 At UQG Optics our aim is to support our clients in developing their products and research projects through the supply of high quality optical components.
Our deep understanding of the role of precision optical components in modern technical environments has developed over six decades of serving scientific and research communities around the world.
We are committed to the continuous improvement in quality and effectiveness of our management systems in order to supply high quality precision optical components. Accordingly we focus on:
Meeting the requirements of our customers
Conforming to statutory and regulatory requirements
Setting objectives and monitoring performance across our business
Providing adequate resources
Responding appropriately to adverse trends.
This is achieved through our Management System, which conforms to BS EN ISO 9001:2015, via internal quality audits and through regular management reviews.
We ensure that our commitment to quality and philosophy are communicated to and understood by all our employees through ongoing training and development and through regular communication.
Kelvin Biggs
Managing Director