Zinc Sulphide (ZnS) Windows – Standard are essential optical components widely used in a variety of applications that require reliable and cost-effective optical solutions.
ZnS is known for its excellent optical properties, including good transmission in the infrared (IR) spectrum. Standard ZnS windows offer high optical clarity and are designed to provide consistent performance in the mid-wave infrared (MWIR) and long-wave infrared (LWIR) regions. These windows are commonly utilized in thermal imaging, surveillance systems, gas sensing, and other infrared applications. Their cost-effectiveness and optical performance make them a popular choice for a wide range of industrial and scientific applications. Standard ZnS windows are carefully manufactured to ensure good optical quality and durability, making them suitable for use in demanding environments. Whether in research laboratories or commercial settings, ZnS windows play a crucial role in various infrared systems, enabling precise sensing and imaging in the IR spectrum.
View all of our Zinc Sulphide (ZnS) Windows products.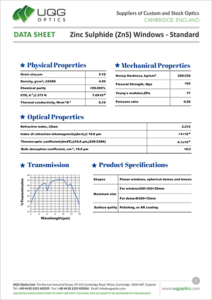 UQG OPTICS MAKES EVERY EFFORT TO VERIFY 3RD PARTY TECHNICAL DATA BUT ACCEPTS NO RESPONSIBILITY FOR ACCURACY.
PDF Download