Schott UG11 is a specialized optical filter glass that offers excellent ultraviolet (UV) and infrared (IR) transmission properties.
It is designed to transmit UV light efficiently while blocking most visible and near-infrared radiation. This unique combination of properties makes it ideal for applications such as UV photography, fluorescence microscopy, and other scientific and industrial uses where precise control of UV radiation is essential. Schott UG11's ability to suppress unwanted wavelengths ensures accurate and reliable results in various analytical and research processes. Additionally, its optical quality and chemical stability contribute to its durability and long-term performance. Researchers, scientists, and engineers often rely on Schott UG11 to manipulate UV light effectively and achieve desired outcomes in their experiments and analyses.
View all of our Schott Bandpass Filters products.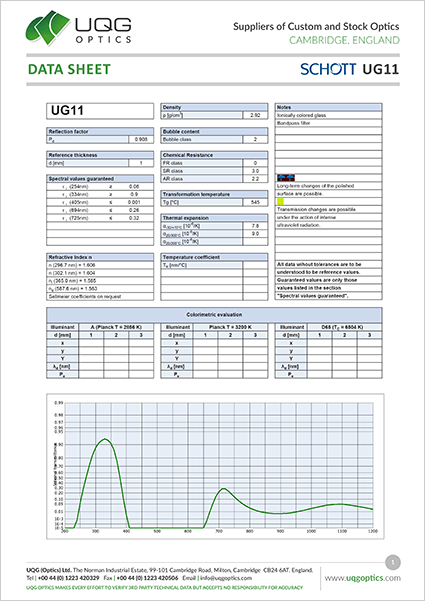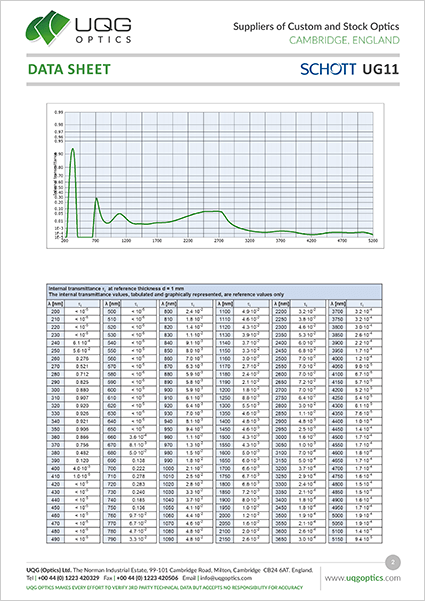 UQG OPTICS MAKES EVERY EFFORT TO VERIFY 3RD PARTY TECHNICAL DATA BUT ACCEPTS NO RESPONSIBILITY FOR ACCURACY.
PDF Download