Schott BG7 is an optical filter known for its excellent UV transmission properties.
This filter allows UV light to pass through while effectively blocking unwanted visible and infrared wavelengths. With a transmission range of approximately 300 to 700 nanometers, BG7 is particularly useful in applications where accurate UV imaging and detection are required. Researchers and engineers often use this filter in fluorescence microscopy, forensic analysis, and other scientific fields that rely on precise UV imaging. BG7's high-quality optical performance, consistent with Schott's reputation for reliability, makes it a valuable choice for professionals working with UV-sensitive optical systems. Incorporating Schott BG7 filters into their setups enables scientists to capture detailed UV information, contributing to advancements in research and technology.
View all of our Schott Bandpass Filters products.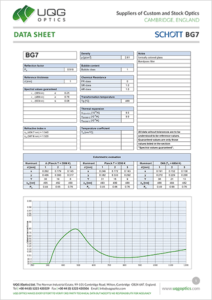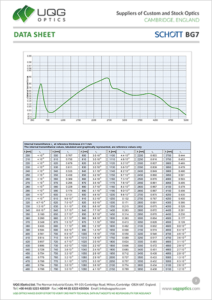 UQG OPTICS MAKES EVERY EFFORT TO VERIFY 3RD PARTY TECHNICAL DATA BUT ACCEPTS NO RESPONSIBILITY FOR ACCURACY.
PDF Download