Sapphire Random, with a thickness of 1.5mm, embodies remarkable optical qualities that elevate it as a prized material across various industries.
Characterized by its random crystal orientation, this sapphire sheet offers unique optical properties suitable for diverse applications. The 1.5mm thickness strikes a balance between mechanical robustness and flexibility, making it ideal for applications that require both precision and durability. With exceptional transparency and optical clarity, Sapphire Random finds utility in optics, electronics, aerospace, and other industries. Renowned for its exceptional hardness and scratch resistance, this material ensures long-lasting performance in challenging environments. Its minimal light absorption and high transmission render it perfect for optical windows, lenses, and imaging systems that demand unparalleled clarity and precision. The availability of Sapphire Random in 1.5mm thickness offers versatile solutions, combining outstanding performance and reliability to cater to the evolving needs of modern technology and innovation.
View all of our Sapphire Windows & Plates – Random Orientation optical products.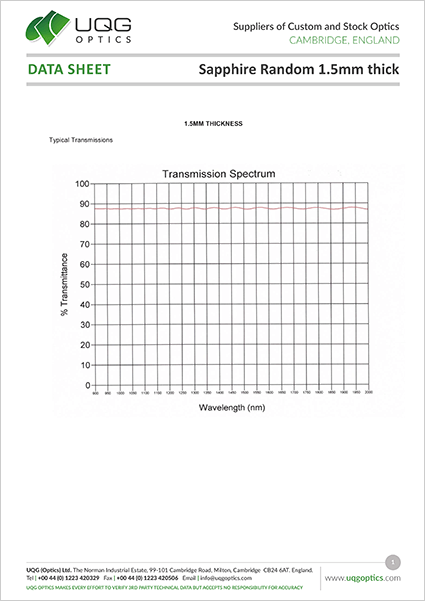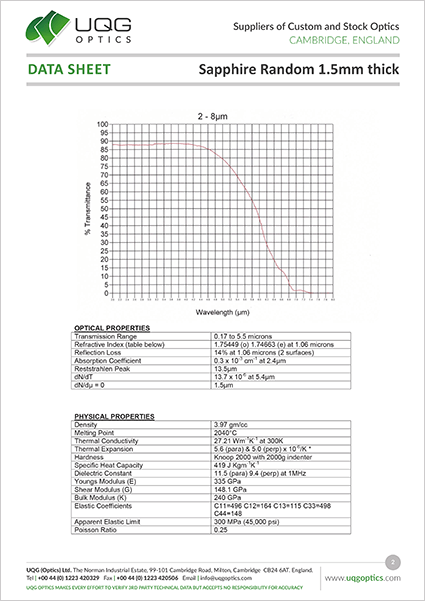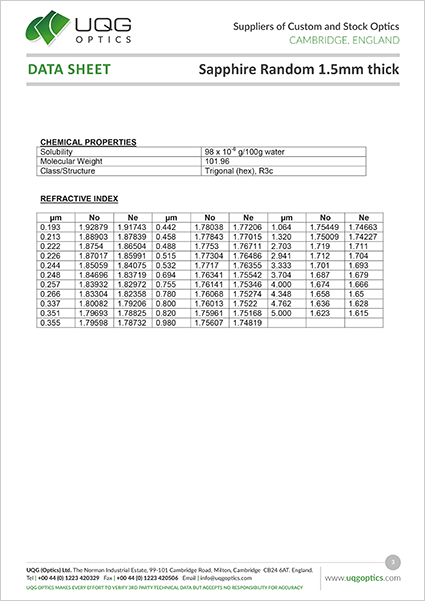 UQG OPTICS MAKES EVERY EFFORT TO VERIFY 3RD PARTY TECHNICAL DATA BUT ACCEPTS NO RESPONSIBILITY FOR ACCURACY.
PDF Download