Schott RD30 Lead Glass is an optical material known for its exceptional radiation shielding properties.
It is composed of a high-density lead oxide glass, carefully manufactured to provide effective protection against ionizing radiation. The RD30 Lead Glass offers a high lead equivalence, meaning it efficiently attenuates the penetration of X-rays, gamma rays, and other harmful radiation. It is widely used in applications such as medical imaging, nuclear facilities, and radiation therapy, where precise and reliable radiation shielding is crucial. The Schott RD30 Lead Glass combines optical transparency with excellent radiation absorption, making it an essential component in ensuring the safety and accuracy of radiation-based procedures and equipment.
View all our Lead Glass Windows and Plates products.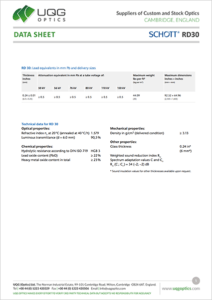 UQG OPTICS MAKES EVERY EFFORT TO VERIFY 3RD PARTY TECHNICAL DATA BUT ACCEPTS NO RESPONSIBILITY FOR ACCURACY.
PDF Download