Hoya CM500 Cyan Colour Compensating Filter is an optical material designed to compensate for the excessive presence of red light in a scene or light source.
It is made from Hoya CM500 glass, a specialty optical glass with specific spectral properties. The filter is specifically engineered to selectively transmit cyan light while attenuating other wavelengths, particularly red. This helps to balance the colour temperature and correct for reddish colour casts, resulting in more accurate and natural-looking images. The Hoya CM500 Cyan Colour Compensating Filter is commonly used in photography, cinematography, and other imaging applications where precise colour correction is required to achieve desired colour reproduction.
View all our Hoya Cyan colour compensating filters products.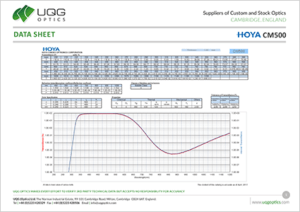 UQG OPTIC
S MAKES EVERY EFFORT TO VERIFY 3RD PARTY TECHNICAL DATA BUT ACCEPTS NO RESPONSIBILITY FOR ACCURACY.
PDF Download