Hot mirrors are Borosilicate coated glass optical filters that are specifically designed to reflect infrared (IR) radiation while transmitting visible light.
These mirrors are made from borosilicate glass, which offers excellent thermal stability and resistance to thermal shock. The glass substrate is coated with a thin-film coating that provides high reflectivity in the IR range and high transmission in the visible spectrum. Borosilicate coated glass hot mirrors are commonly used in applications where efficient heat control is crucial, such as in lighting fixtures, projectors, and optical systems. They help to redirect and reflect unwanted heat radiation away while allowing visible light to pass through, enabling effective temperature management and preserving the quality of the transmitted light.
View all our Hot Mirror Heat Control Filters products.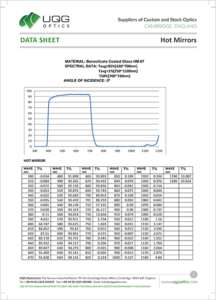 UQG OPTICS MAKES EVERY EFFORT TO VERIFY 3RD PARTY TECHNICAL DATA BUT ACCEPTS NO RESPONSIBILITY FOR ACCURACY.
PDF Download