Corning 7980 is a UV Fused Silica which is a high purity synthetic amorphous silicon dioxide manufactured by flame deposition.
The non crystalline, colourless, silica glass combines a very low thermal expansion coefficient with excellent optical qualities and exceptional transmittance in the ultraviolet. It is available in a number of optical grades for different applications including KrF, ArF and IR grades. It typically has an operational range from around 180nm to 2μm. Infrared (IR) transmission can be further enhanced and extended to 3.5μm by removing OH– ions.
Typically used to produce, windows, plates, substrates, discs, wedges and coverslips.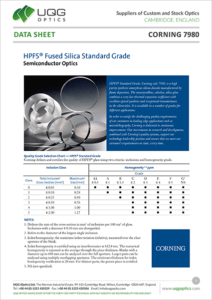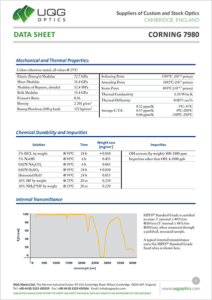 UQG OPTICS MAKES EVERY EFFORT TO VERIFY 3RD PARTY TECHNICAL DATA BUT ACCEPTS NO RESPONSIBILITY FOR ACCURACY.
PDF Download