Front Surface Mirrors Enhanced
Front Surface Mirrors are made from Float glass and are coated in Aluminium with dielectric layers,  so they minimise energy loss by not allowing light to pass through the glass substrate. When rectangular they are perfect for mounting at 45° to give the light path a bend of 90°. They are used for a range of scanning, lighting applications and scientific instruments such as periscopes and telescopes.
UQG optics Front Surface enhanced Mirrors standard stock range are made from large coated sheets in diameters and squares in a range of thicknesses. Our custom options can be made in other coatings including gold, silver, dielectric and UV overcoats.
Please contact our sales team.

View RoHS Statement
| | |
| --- | --- |
| Dimensions: | Diameters 5mm to 1 metre |
| | Squares/Rectangles 1mm x 1mm to 1 metre x 1 metre |
| Thickness Range: | 1.20mm to 6mm |
| Coating Options: | UV enhanced, dielectic, silver & gold (wavelengths to suit) |
| Options: | Bevels, angles & shapes |
Purchase OEM production quantities?
Ask UQG for a quote we are a major single source supply chain global supplier.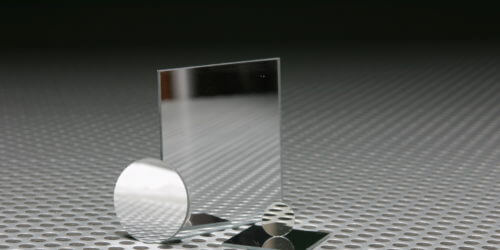 Material:
MCR-01 - Float Glass
Dimension Tolerance:
±0.20mm
Edge Finish:
Diameters ground
Thickness Tolerance:
± 0.10mm
Surface Quality:
60/40 Scratch/Dig
Surface Flatness:
≤ 5 fringes (@633nm) per 25mm
Coating:
Aluminium with dielectric layers (mgF2/Pr/Ti)
Wavelength:
400nm @ 45° Min 92%
Abrasion Resistance to MIL-C-13508C
Humidity Resistance to MIL-C-48497
Corrosion Resistance to MIL-C-810C
Reflectance:
R=≥95% @ 550nm
Scratches shall not exceed 0.06mm in width
Please contact us for discount pricing for stock parts over 10+ and volume/OEM quantities