Schott UG5 is a highly reliable and versatile optical filter glass that possesses exceptional ultraviolet (UV) transmission properties.
It is well-known for its ability to efficiently transmit UV light in the spectral range from 250nm to 350nm. This makes it particularly useful in applications where accurate UV transmission is crucial, such as in UV photolithography, UV curing processes, and various analytical instruments. Additionally, Schott UG5 offers good visible light transmission, making it suitable for applications that require a balance of UV and visible light transmittance. The optical material's consistent and reliable performance, along with its excellent resistance to environmental factors, makes it a preferred choice for many optical applications where precise UV control is essential. Researchers, engineers, and manufacturers rely on Schott UG5 to deliver dependable performance and meet the demanding requirements of modern optical systems and scientific instruments.
View all of our Schott Bandpass Filters products.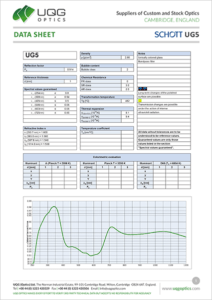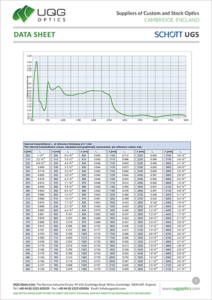 UQG OPTICS MAKES EVERY EFFORT TO VERIFY 3RD PARTY TECHNICAL DATA BUT ACCEPTS NO RESPONSIBILITY FOR ACCURACY.
PDF Download