Schott UG2A is a high-quality optical filter glass known for its excellent ultraviolet (UV) and visible light transmission properties.
It offers a unique combination of high transmission in the UV region, extending into the near-infrared, along with a sharp cut-off in the infrared range. This makes it ideal for applications where precise control over UV light is required while effectively blocking unwanted infrared radiation. Schott UG2A finds widespread use in various scientific, industrial, and analytical instruments, particularly in fields such as fluorescence microscopy, spectroscopy, and UV imaging. Its ability to transmit UV light efficiently while providing excellent optical filtering capabilities makes it an essential component in many optical setups. Researchers and engineers value Schott UG2A for its consistent performance, reliability, and resistance to environmental factors, making it a versatile and valuable optical material for a wide range of challenging applications.
View all of our Schott Bandpass Filters products.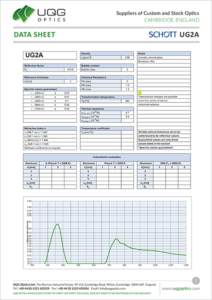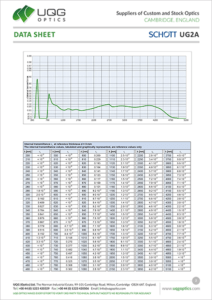 UQG OPTICS MAKES EVERY EFFORT TO VERIFY 3RD PARTY TECHNICAL DATA BUT ACCEPTS NO RESPONSIBILITY FOR ACCURACY.
PDF Download