Schott RG610 is a specialized optical glass that finds its application in the field of infrared and thermal imaging.
With a transmission range optimized for the near-infrared region, typically ranging from 0.6 to 1.0 micrometres, Schott RG610 efficiently allows near-infrared radiation to pass through while blocking unwanted visible and ultraviolet light. This unique property makes it ideal for use in various scientific and industrial applications, including night vision devices, surveillance systems, and remote sensing instruments. The glass's ability to selectively transmit near-infrared light while attenuating other wavelengths enhances the sensitivity and accuracy of infrared imaging systems, enabling clear detection of heat signatures and objects even in low-light conditions. Additionally, Schott RG610 offers excellent thermal and mechanical stability, making it a reliable choice for demanding environments. Engineers and researchers benefit from the exceptional performance of Schott RG610, allowing them to push the boundaries of near-infrared technology and explore new possibilities in imaging and sensing applications.
View all of our Schott Longpass Filters products.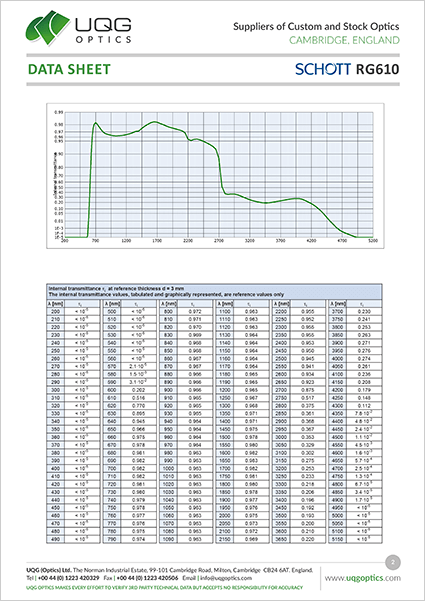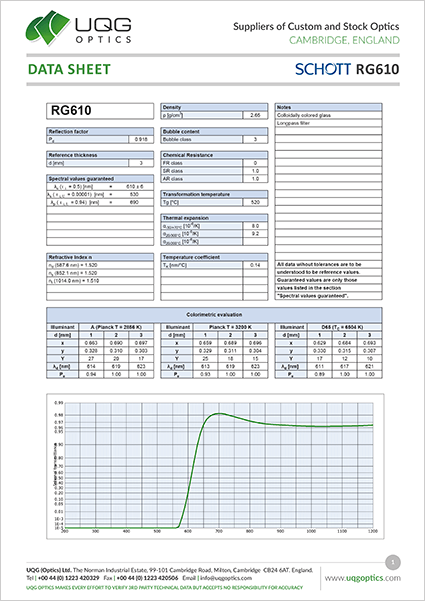 UQG OPTICS MAKES EVERY EFFORT TO VERIFY 3RD PARTY TECHNICAL DATA BUT ACCEPTS NO RESPONSIBILITY FOR ACCURACY.
PDF Download