Schott BG18 is a popular optical material widely used for its excellent performance in the visible and infrared regions of the electromagnetic spectrum.
It is a blue glass filter known for its exceptional transmission in the blue and green regions, making it ideal for applications where precise control of those wavelengths is required. Schott BG18 is commonly used in photography, imaging systems, and scientific instruments to enhance contrast and reduce unwanted background light. Its ability to block unwanted infrared radiation while transmitting visible light efficiently makes it suitable for various optical applications. The unique combination of optical properties and its high transmittance in the visible spectrum makes Schott BG18 a preferred choice for professionals in the optical industry and researchers in various fields.
View all of our Schott Bandpass Filters products.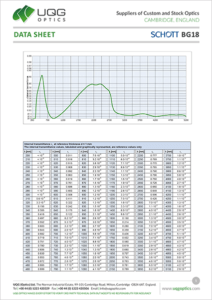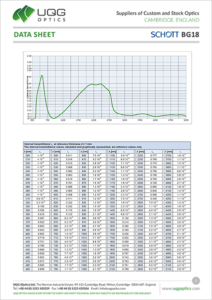 UQG OPTICS MAKES EVERY EFFORT TO VERIFY 3RD PARTY TECHNICAL DATA BUT ACCEPTS NO RESPONSIBILITY FOR ACCURACY.
PDF Download