Schott AF45 is a highly regarded optical material known for its unique properties and versatile applications.
It is an alkali-free barium borosilicate glass that offers exceptional transmission in the ultraviolet (UV), visible, and near-infrared (NIR) regions of the spectrum. Its low auto-fluorescence and high chemical durability make it a preferred choice for demanding optical applications in research and industry. Schott AF45 is commonly used in fluorescence microscopy, spectroscopy, and other high-performance optical systems where minimal interference and high precision are crucial. Its low thermal expansion coefficient ensures stability over a wide range of temperatures, making it suitable for demanding environments. With its excellent optical performance and reliability, Schott AF45 continues to be an essential material for cutting-edge optical technologies and scientific advancements.
View all of our Alkaline Free Glass Plates optical products.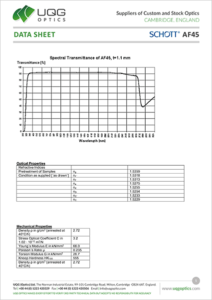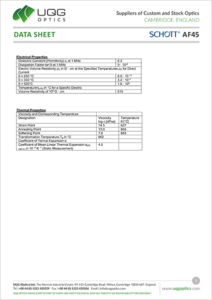 UQG OPTICS MAKES EVERY EFFORT TO VERIFY 3RD PARTY TECHNICAL DATA BUT ACCEPTS NO RESPONSIBILITY FOR ACCURACY.
PDF Download