Uncoated Germanium Polycrystalline is an optical material with a polycrystalline structure, consisting of germanium without any additional coatings or treatments on its surface.
Germanium is known for its high refractive index and excellent transmission in the infrared spectrum, particularly in the mid-infrared range. Uncoated Germanium Polycrystalline is commonly used in applications where broadband transmission in the infrared region is required, such as thermal imaging, infrared spectroscopy, and gas sensing. Its optical properties make it well-suited for use in optical systems that operate in the infrared region, providing efficient light transmission and enabling accurate detection and analysis of infrared radiation.
View all our Germanium Windows products.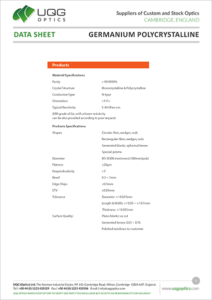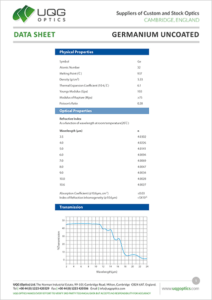 UQG OPTICS MAKES EVERY EFFORT TO VERIFY 3RD PARTY TECHNICAL DATA BUT ACCEPTS NO RESPONSIBILITY FOR ACCURACY.
PDF Download